Beach Bum Buffets and Sangria Soirees: A Chiringuito Connoisseur's Guide to Menorca
Menorca: imagine, a tropical paradise where you can sip a Pimm's with your toes buried in the sand, as the balmy sea breeze ruffles your hair and the sun gently toasts your pasty limbs. Welcome to the chiringuito, a beachside haven for sun-soaked revelry, refreshing libations, and a much-needed respite from the Great Northern Europe drizzle.
A chiringuito, you see, is a cheeky little beach bar, often temporary and rustic in nature, where you can park your sunburnt bum on a wooden stool, treat your taste buds to a symphony of tapas, and quench your thirst with an ice-cold beverage. It's like a pub, but with more sand, fewer darts, and a far lower risk of rain.
Ah, but it's not all about the drinks, my dear island-hoppers. Chiringuitos are also the perfect place to indulge in the local cuisine, where you can feast on mouth-watering seafood paellas, crispy calamari, and juicy gambas al ajillo. Forget soggy fish and chips, and say hello to the flavours of the Mediterranean!
As the sun begins to set, these unassuming shacks transform into vibrant social hubs, where laughter mingles with the scent of saltwater and the sounds of live music echo through the air. It's a place where friendships are forged, holiday romances bloom, and spontaneous dance-offs ensue beneath the stars.
So, my sun-seeking Brits, if you're ready to trade your wellies for flip-flops and your brolly for a beach towel, pack your bags and set your sights on a chiringuito. It's like a home away from home, with a splash of sangria and a dash of Spanish charm. Cheers, or as they say in Spain, ¡Salud!
Is menorca any good for chiringuitos?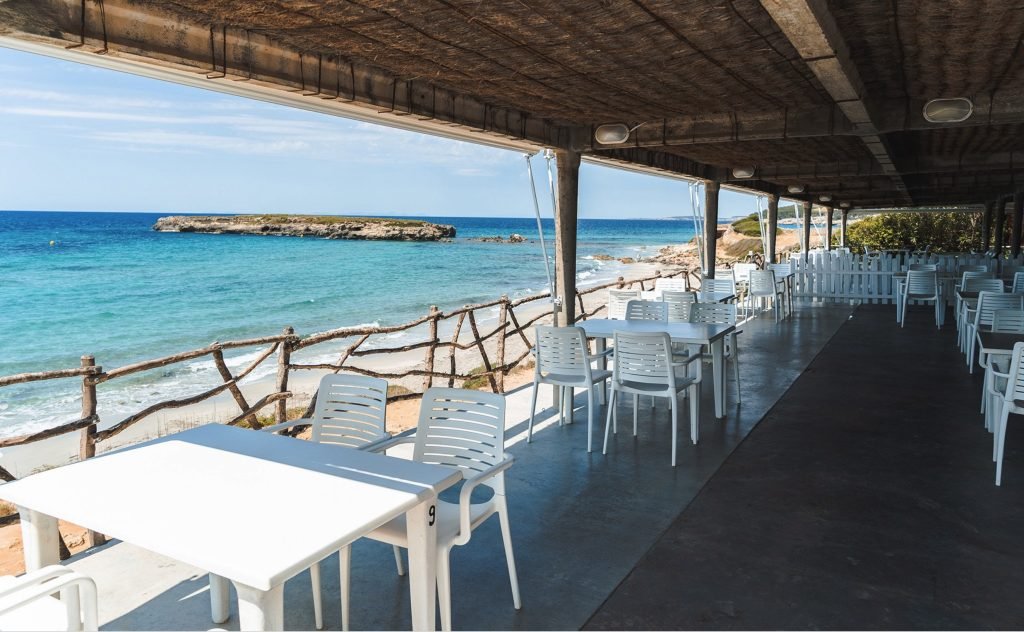 Oh, dear traveller, asking if Menorca is good for chiringuitos is like asking if the Queen loved her corgis – the answer is a resounding "yes"! Menorca, you see, is a veritable paradise for chiringuito enthusiasts, offering a smorgasbord of sandy spots for you to soak up the sun, sip on sangria, and savour the scrumptious seaside fare.
This delightful island, nestled in the heart of the Mediterranean, is the perfect backdrop for your chiringuito escapades. With its pristine beaches, crystal-clear waters, and more hidden coves than a pirate with a penchant for treasure-hunting, Menorca is practically tailor-made for these charming beach bars.
As you wander the sun-kissed shores, you'll stumble upon a medley of chiringuitos, each with its own unique vibe and style. From rustic shacks with sand-covered floors to chic lounges adorned with twinkling fairy lights, there's a chiringuito to suit every sandy-bottomed beachgoer.
And the gastronomic delights, oh my! Menorca's chiringuitos offer a tantalizing array of culinary temptations, with local delicacies such as lobster stew, crispy squid, and ensaimada pastries taking centre stage. It's enough to make you forget all about the soggy sandwiches and tepid tea of Blighty.
So, whether you're a chiringuito connoisseur or a beach bar newbie, Menorca is the place to be. With its idyllic landscapes, heavenly weather, and an abundance of these seaside sanctuaries, this sun-drenched island is sure to make you fall in love with the chiringuito life. So, slap on your sunscreen, don your sunglasses, and get ready to embrace the Menorcan beach bar experience.
Here is a selection of chiringuitos, or beach bars, in Menorca, perfect for enjoying refreshing drinks, delicious food, and stunning views:
These 5 chiringuitos in Menorca offer a perfect blend of beautiful surroundings, delicious food, and refreshing beverages, allowing you to enjoy the island's incredible beaches and atmosphere fully.
Check Some of our properties in Menorca
Why Fractional Ownership Property in Menorca Makes Sense
Fractional ownership is an increasingly popular option for those who want to enjoy the benefits of owning a holiday home in Menorca without paying the full purchase price and running costs. Here are some compelling reasons to consider fractional ownership property in Menorca:
Cost-Effective Investment
Fractional ownership allows you to purchase a share of a property (minimum 1/8th), which means you only pay for the time you actually use it. This significantly reduces the initial investment and ongoing costs compared to buying a property outright, making it for a second home as the most we can stay is six months a year anyway (unless you become a Spanish tax resident).
Shared Maintenance Responsibilities
One of the major advantages of co-ownership is that maintenance, repairs, and upkeep are shared among all owners. This not only reduces the financial burden but also saves you time and effort, allowing you to fully enjoy your time in Menorca (and the chiringuitos!) without worrying about property management.
Appreciation Potential
Menorca is a highly sought-after destination with a strong tourism market and property prices increase exponentially. Investing in a Menorcan property can offer potential appreciation benefits over time, as the value of the property may increase due to its desirable location and amenities. Co-ownership, unlike timeshare, means that you own a share of the deed, not just time.
To explore fractional ownership opportunities in Menorca, visit our website to browse our curated selection of properties. Our listings feature a wide range of options, from charming villas to luxurious apartments, in prime locations across the island. Take the first step toward owning a piece of Menorca's paradise by checking out our fractional ownership properties today. Visit Our Website
Embrace the benefits of fractional ownership in Menorca and start creating unforgettable memories with your loved ones on this stunning Mediterranean island (the shares are super easy to transfer to a spouse or children). With its beautiful beaches, vibrant culture, and enticing gastronomy with the chiringuitos, Menorca offers an unparalleled holiday experience that you'll want to return to year after year.