The Power of Shared Luxury: Discover Fractional Ownership
Fractional ownership offers a new and exciting way to become a proud owner of a second residence in Spain and France, at a fraction of the price and without the usual complications. This innovative concept allows you to enjoy the benefits of owning a luxury vacation home in coveted locations such as the Balearics, Costa Brava, Costa del Sol, Provence, and Normandy. In this article, we will delve into the details of fractional ownership, exploring how it works and the exceptional opportunities it presents.
1 

Choose Your Dream Escape
Handpick Your Ideal Fractional Ownership Home When it comes to fractional ownership, the key lies in selection. Our curated portfolio features a range of exceptional properties in the Balearics, Costa Brava, Costa del Sol, Provence, and Normandy. Each property is carefully chosen for its unique charm, stunning vistas, and proximity to local attractions. Whether you envision a sun-soaked villa on the Costa del Sol or a charming countryside retreat in Provence, our portfolio has something to suit every taste and preference.
Furthermore, we understand that your dream home might extend beyond our portfolio. With our fractional ownership model, you have the flexibility to explore properties outside our collection. Simply contact us, and we will guide you through the process, making your vision a reality.
2 

Coordinating the Purchase:
Join Forces for seamless Fractional ownership is about creating a community of like-minded individuals who share the desire for a second home in Spain or France. It is facilitated by adding up to eight co-owners and establishing a legal entity/company, such as a Limited Company (often a "limited" in Spain and an SCI in France), where each co-owner becomes a proud shareholder, collectively owning 100% of the property. On average there are five co-owners per property as some have more than only one share.
In addition to forming the legal entity, we also assist co-owners in securing financing options. For those who require financial assistance, we work closely with reputable lenders to offer up to 80% financing on their ownership share. This ensures that fractional ownership is accessible to a wider range of individuals, eliminating financial barriers and opening doors to a world of luxury living.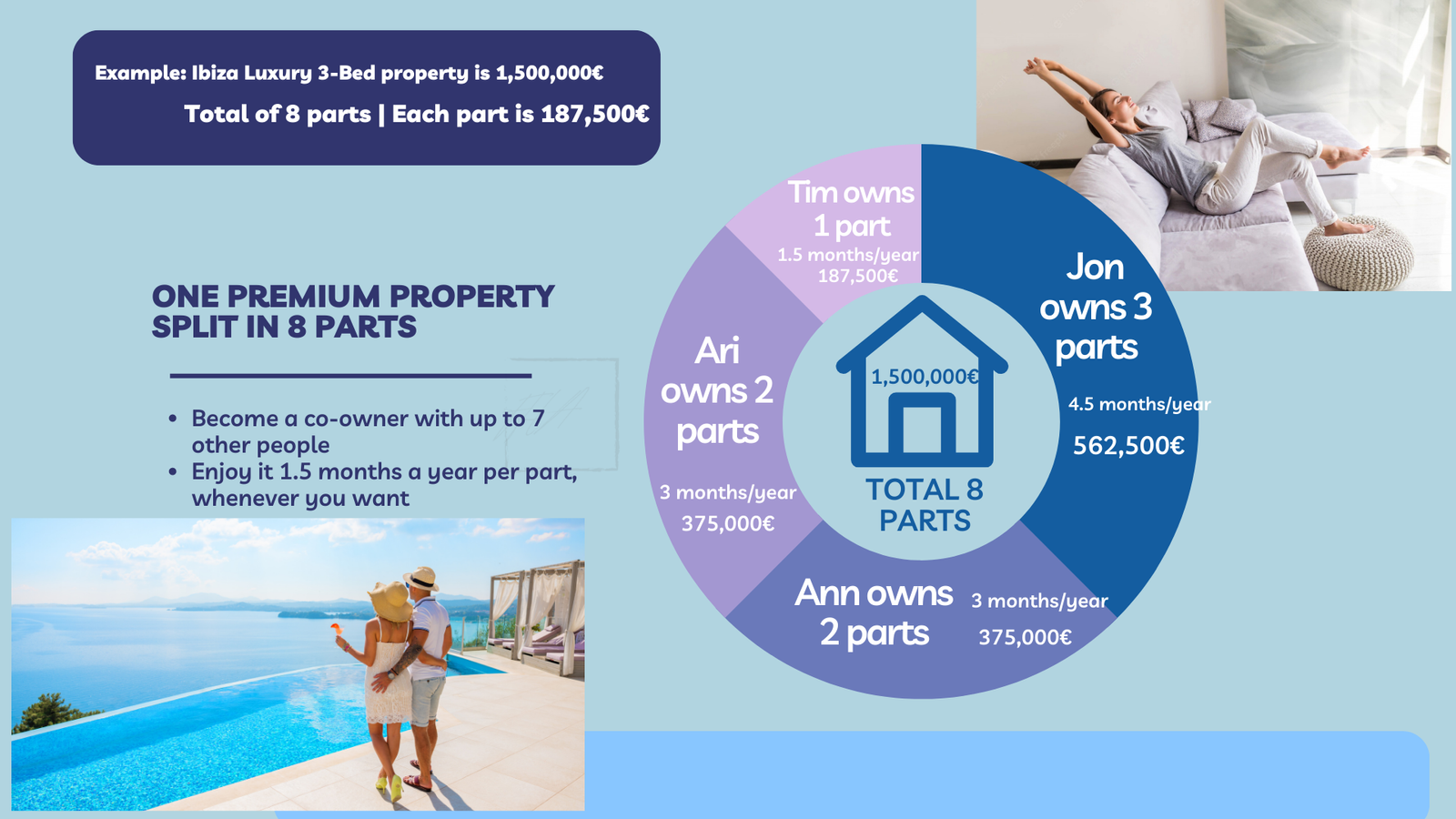 3

  Sealing the Deal: Sales and Renovations Made Easy
Once the legal entity is established and financing is in place, the purchase of the property is formalised, transferring complete ownership to the fractional co-owners. However, our commitment to excellence doesn't stop there. We understand the importance of personalization and enhancing the property's value.
Before the purchase, we collaborate with co-owners to define the desired renovations and improvements. From modernizing interiors to creating breathtaking outdoor spaces, our experienced team oversees and executes the renovation plans. What's unique about our approach is that any increase in the property's value following the renovation belongs entirely to the co-owners, maximizing their investment and delivering an elevated living experience.
4

 Live the Dream: Experience Luxury at Your Fractional Home
With the purchase complete and renovations executed to perfection, it's time to enjoy your newfound haven. Through our user-friendly app, co-owners can effortlessly reserve their preferred stays, ensuring fair and equitable scheduling among all stakeholders. Our dedicated team takes care of every aspect of property management, including maintenance, repairs, cleaning, and day-to-day operations, guaranteeing a seamless and worry-free experience.
Additionally, we understand that luxury living goes beyond the walls of your second home. Should you desire additional services during your stay, our team is at your disposal 24/7. From private chefs and curated excursions to restaurant reservations and spa treatments, we strive to provide an all-encompassing experience that surpasses your expectations.
5 

Earn While You're Away: Capitalize on Fractional Ownership
One of the remarkable advantages of fractional ownership is the ability to generate passive income. When you're not utilizing your share of the property, our management team can handle short-term rentals on your behalf, allowing you to monetize your investment effortlessly. This means that even when you're not enjoying your dream escape, your property continues to generate income, offsetting expenses and maximizing your return on investment.
Moreover, fractional ownership offers the option to gift unused days to family and friends. Imagine the joy of sharing the beauty and luxury of your second home with your loved ones, creating lasting memories and unforgettable experiences.
6 

Exit with Ease: Selling Your Fractional Ownership
While we hope you'll cherish your fractional ownership for years to come, circumstances may change, and you may decide to sell your share. We understand the importance of flexibility and have designed a seamless process to facilitate the sale.
Should you choose to sell, we provide support throughout the entire process. Our marketplace and network of partners enable us to promote the sale of your ownership share effectively. However, if you prefer to find a buyer outside our marketplace, you have complete freedom to set the selling price and negotiate with interested parties directly. We empower you to make decisions that align with your financial goals and aspirations.
Fractional ownership has revolutionised the concept of owning a second home in sought-after destinations like the Balearics, Costa Brava, Costa del Sol, Provence, and Normandy. With the ability to handpick your dream home, join a community of co-owners, and enjoy the benefits of shared ownership, fractional ownership offers a flexible and financially advantageous solution.
Embrace the future of luxury living and unlock the possibilities of fractional ownership in Spain and France. Your dream escape awaits!