Secure Your Alpine Paradise: A Guide to Buying the Last Share in Our Fractional Ownership Property
Oh, the allure of the French Alps! Imagine having a cozy slice of alpine paradise, where crisp mountain air, world-class skiing, and a vibrant culture await. But, there's a cherry on top! It doesn't need to cost an arm and a leg. How? Through fractional ownership. Let's dive into Buying the last share in our fractional ownership property located on the slopes in the charming ski resort of La Plagne Montalbert.
Buying the Last Share in Our Fractional Ownership Property Located in La Plagne Montalbert
Get in on this hidden gem before it's snatched up! The property is smack dab on the slopes. It's not just a winter wonderland – there's a cavalcade of summer activities too.
La Plagne Montalbert: An Introduction
La Plagne Montalbert, part of the Paradiski area, is an enchanting village with a distinct, authentic charm. Nestled in the Tarentaise Valley, it's part of the larger La Plagne ski area AND PARADISKI AREA.
A Deep Dive into the Ski Resort of La Plagne Montalbert
Ski Lifts – Your Gateway to the Slopes
La Plagne Montalbert is part of the Paradiski area, which includes both La Plagne and Les Arcs. This area is connected by an impressive network of ski lifts. Let's go over a few notable ones.
Vanoise Express
This is the world's largest cable car. What's the big deal, you ask? Well, it connects the two gigantic skiing areas of La Plagne and Les Arcs. It's not just a lift; it's an experience.
Montalbert Gondola
Located smack dab in the middle of Montalbert, this is your express ticket to the slopes.
Activities in Winter
Skiing and Snowboarding
Needless to say, this is the pièce de résistance. With an astounding range of slopes catering to beginners and seasoned veterans alike, La Plagne Montalbert is a snowy paradise.
Dog Sledding
Yes, you read that right. A pack of huskies, a sledge and the open snowy trails.
Activities in Summer
Mountain Biking
When the snow melts, the trails are taken over by mountain bikers. With a vast network of trails, it's a biker's haven.
Paragliding
How does soaring like an eagle sound? Take off from the mountains and glide over the lush landscape.
White-water Rafting
The ice melt turns the serene rivers into raging torrents, ideal for white-water rafting.
A Year-Round Destination
In conclusion, La Plagne Montalbert is not just a ski resort; it's a year-round treasure trove of activities. With the majestic Alps as a backdrop, there is something for everyone. Whether it's racing down the slopes or a leisurely hike through alpine meadows, La Plagne Montalbert beckons.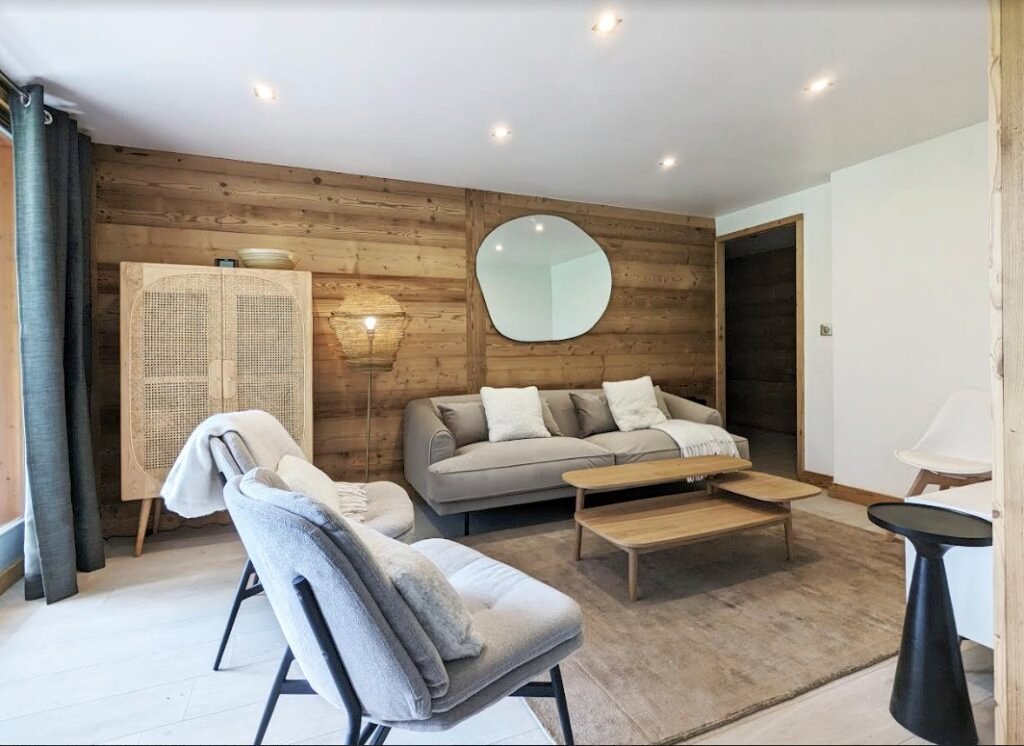 85,000 € for 1/8th Share 3 Bedrooms 2 Bathrooms 74.00 sqm La Plagne 
CLICK HERE TO SEE THE PROPERTY
Indulge in luxury with this exquisite apartment, which boasts top-quality materials, spacious living areas, close proximity to shops, recent renovations, and ski-in ski-out access. Additionally, this elegant wooden chalet, nestled in a tranquil setting, features a spectacular master suite with views on the pistes.
This splendid 3-bedroom apartment with an additional sleeping area (coin montagne) spans 74 sqm and has been completely renovated. It's located in a modern building, offering 100% ski-in ski-out access right in the heart of the La Plagne Montalbert ski resort, which is a part of the Paradiski La Plagne/Les Arcs area.
The living space includes a stunning double living room, comprised of a cozy living area on one side and a dining room with an open kitchen on the other. Both these spaces lead out to a wooden terrace and the residence's garden.
In the sleeping quarters, you'll find three bedrooms, an additional sleeping area with bunk beds (coin montagne), a shower room, a bathroom, and a separate toilet. There's also a ski boot warmer area. Most rooms offer breathtaking, unobstructed views of the mountains.
Additionally, the property comes with a cellar, a ski locker, and a garage, ensuring a comprehensive range of amenities. You also have the option to park a second car within the residence parking.
OUR OPINION: Balancing the serenity of the mountains with the charm of a family resort, this comfortably appointed ski-in ski-out apartment guarantees unforgettable holidays.
Expected monthly costs (inclusive of all operating costs, taxes, insurance, and property management) are 220 €/month prior to any rental income.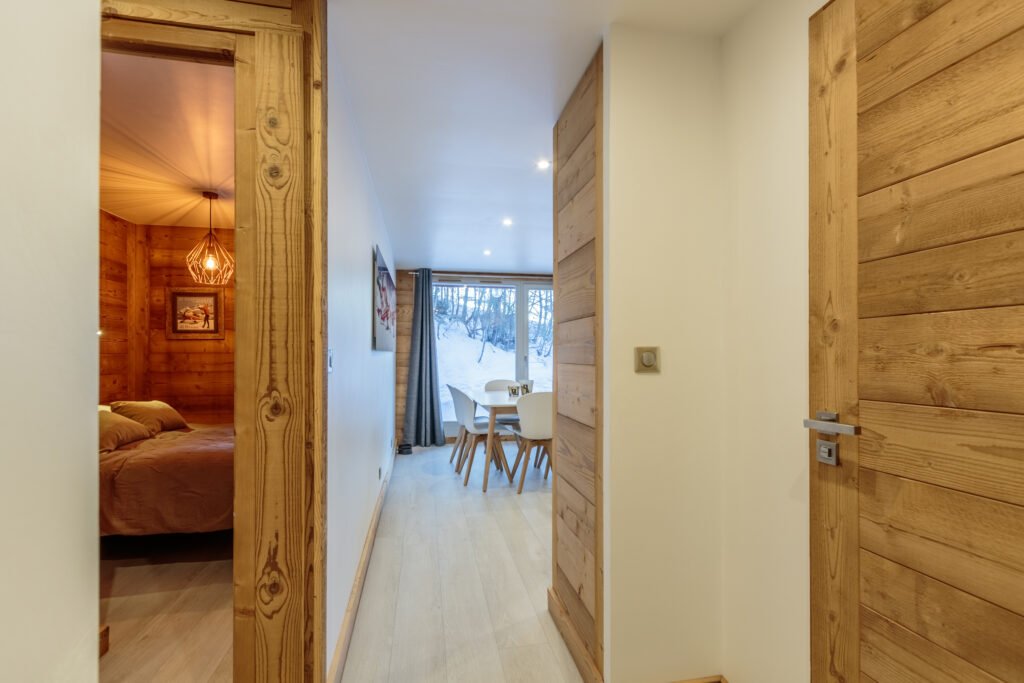 La Plagne La Plagne gained prominence during the 1992 Albertville Winter Olympics, particularly for hosting the bobsleigh and luge events. Today, it's a highly sought-after destination for both sports and mountain enthusiasts, offering access to 400 km of slopes in the Paradiski ski area.
STANDARD AMENITIES Professional decoration | Fully Equipped Fully furnished | Exclusive storage for owners
CO-OWNERSHIP DETAILS | 44 days/year for each 1/8th share | Exclusive year-round storage | Turnkey, fully equipped & furnished | Will be upgraded by a professional interior designer
Connecting People &
Luxury Lifestyle
Discover the best locations in the Alps, and embrace the dream! At Co-Ownership-Property, our passion for people, top lifestyle, and real estate knows no bounds. We are selecting premium ski properties for our global clientele, guiding them to their perfect second home for a fraction of the cost.