Grand historic 10-bedroom chalet with swedish sauna in Samoens, Grand Massif.
Grand lifestyle in Samoens, Grand Massif | 554,000€ per share (1/8th)
As an estate agent with 20 years of experience specializing in ski properties, I am thrilled to introduce this grand 18th-century farmhouse chalet located in the picturesque hamlet of Vallon d'en Bas in Samoëns, France. Renovated with taste and a commitment to the highest standards, this nearly 900-square-meter ski chalet offers the perfect combination of luxury and comfort.
10 bedrooms, a wine cellar for your best Clarets, what more could you want?
With 10 bedrooms, each equipped with ensuite bathrooms, guests can enjoy their own private space while still having access to common areas such as the dining room, living room, library, and fully equipped kitchen. The ground floor also includes an office, perfect for those who need to stay connected during their stay.
The farmhouse's quality of craftsmanship and use of materials such as oak and Burgundy limestone is a testament to the care and attention to detail that went into its renovation. The four bedrooms with private balconies facing south offer stunning views of the Grand Massif ski area, while the renovated two-story barn with a fireplace, bar, shower, and covered terrace provides additional living and storage space, perfect for entertaining or relaxing after a day on the slopes.
Surrounded by 3,200 square meters of immaculate land, including an orchard, lawns, and various fruit trees, guests can enjoy the beauty of nature in the 14-person hot tub and Swedish sauna. The chalet also includes a wine cellar and ski storage room, ensuring that guests can store their gear safely and securely.
Check Some of our other ski properties
120,000 €
Superb brand new 3-bedroom apartment in the centre of Alpe d'Huez ski resort (built in 201
...
115,000 €
Embrace the Alpine Experience at the Pleta de Nheu Residence in Baqueira ski resort. Step
...
155,000 €
Prepare to be captivated by the stunning architecture and sophisticated charm of this meti
...
Close to the ski lifts and Samoens village centre
Located just 300 meters from a ski bus stop, guests have quick and easy access to the Grand Massif Express and some of France's best off-piste skiing. In the summer, nature enthusiasts can explore the various nature trails surrounding the property. With the village of Samoëns just 1200 meters away and Geneva only 70 km away, guests can easily explore the surrounding area.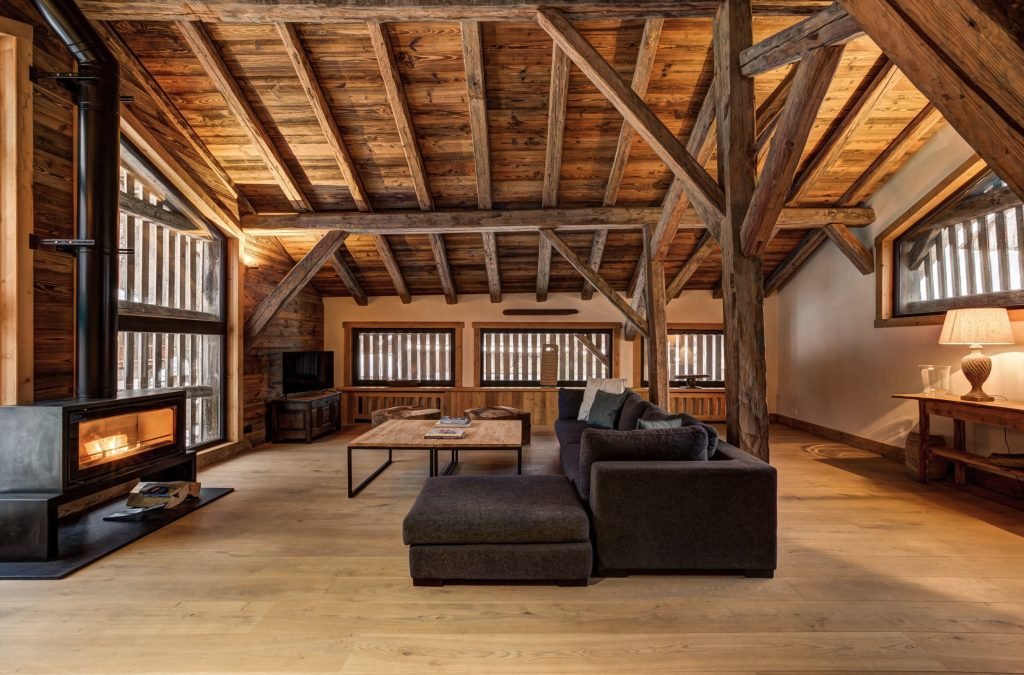 Roca Llisa fractional ownership options
Samoëns is classified as a "flowered city" and is the only ski resort classified as a national monument in France, making it a unique and special destination for those seeking both natural beauty and cultural significance.
This rare property offers the scale of a large country house, the comfort levels of a 5-star hotel, and is located in a beautiful, quieter, but very accessible ski area away from the hustle and bustle of some of the larger resorts. Whether you're looking for a luxurious winter retreat or a summer escape, this farmhouse chalet is the perfect place to call home.
Location: Peaceful hamlet of Vallon d'en Bas in Samoëns, France
Property Size: Nearly 900 square meters of living space
Bedrooms: 10 bedrooms, each with ensuite bathrooms
Amenities: Hot tub, Swedish sauna, wine cellar, ski storage room, and orchards
Views: Spectacular views of the famous peaks of the Cathedral, Criou, and Grand Massif