Courchevel Village the new family-friendly ski resort
Courchevel 1550, also known as Courchevel Village, is a ski resort located in the Tarentaise, French Alps. It is part of the larger Courchevel ski area, which includes the resorts of Courchevel 1850, Courchevel 1650, and La Tania (Saint Bon and Le Praz also but lower). Courchevel consists of six villages that are connected by ski lifts and free shuttles, creating a convenient "ski-in/ski-out" experience. As you travel through the winding roads and forests of the Tarentaise valley, you will be treated to breathtaking panoramic views. The resort is known for its commitment to excellence and attention to detail, ensuring that visitors have a truly memorable stay in each of its villages. Also, it is meant to be the new family-friendly resort of the Courchevel range.
Courchevel Village is the lowest (still very high at 1550) and most budget-friendly of the six resorts and is known for its charming atmosphere and traditional alpine architecture. The resort boasts a range of ski runs for all abilities, as well as a variety of non-skiing activities such as snowshoeing, ice skating, and dog sledging. It is also home to several restaurants, bars, and shops, making it a great destination for a winter holiday.
The snow front at the heart of the village offers quick and direct access to Courchevel 1850 in under 5 minutes (in the evening, you can access 1850 by gondola until 0:30 at night)), as well as to the entire 3 Vallées ski area. The village also offers activities for families, such as a 2.5-kilometre toboggan run that starts at an altitude of 1,850 meters and ends in the village centre at 1,550 meters. For a fun and relaxing activity, visitors can take a short walk or utilize the free shuttle bus to the Aquamotion aqua fun centre, located just 600 meters away.
The gastronomic offerings of Courchevel range from Michelin-starred establishments to cosy restaurants serving traditional French fare to those specialising in authentic Alpine cuisine, all featuring dishes crafted from the freshest local ingredients.
An exclusive new offering with a new luxury 3-bedroom apartment right in front of the snow front in Courchevel Village Click here for more info.
This new apartment is on the market under the co-ownership purchase at only 188,000€ the part. This is an apartment worth over 1.5M€ including the stamp duty and all costs.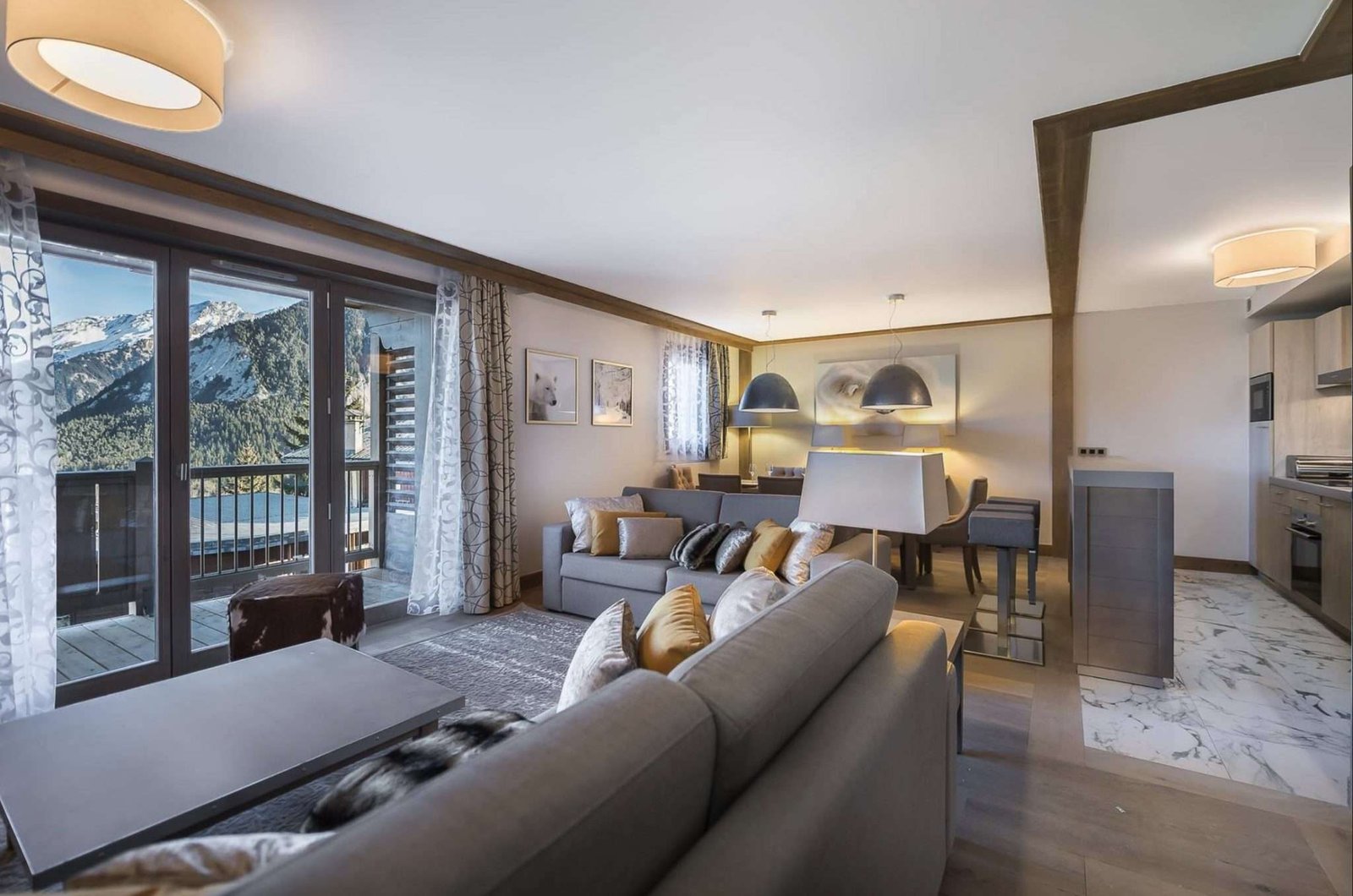 This 3-bed apartment, situated in the heart of the vast ski domain of the 3 Valleys, offers the ultimate ski-in/ski-out experience, located right in front of the snow front and lifts. Located on the second floor of an exclusive residence, this 91 sqm home features three spacious bedrooms, each with an en-suite bathroom, and a reception area leading to a private terrace with breathtaking views of the surrounding peaks.
In addition to its prime location, this apartment is also a short distance from the Aquamotion Spa, the largest aquatic centre in the Alps, and is conveniently located within walking distance of all the amenities of the village. The residence offers a sauna and gym for guests to use, as well as a concierge service for added convenience. This beautifully decorated and fully equipped apartment is fully furnished and ready for guests to enjoy, and also offers owner storage for added convenience. Don't miss out on the opportunity to experience the ultimate ski holiday in this exclusive Courchevel Village retreat.
You can check more ski properties under the fractional ownership here.