Imagine waking up to the gentle sound of waves crashing against the shore, the warm sun on your skin, and the salty smell of the sea in the Menorcan air.
This is the life that many of us dream of, especially when it comes to owning a second home. However, the reality is that buying a holiday property can be a daunting and expensive experience. That's where fractional ownership comes in, offering an affordable and stress-free alternative to traditional second home ownership.
And where better to experience this than on the beautiful island of Menorca, with its pristine beaches, stunning landscapes, and warm Mediterranean climate? With fractional ownership, you can own a share of a beautiful villa, enjoy all the benefits of owning a second home, and make unforgettable memories with your loved ones in this paradise on earth.
So, let us introduce you to the world of fractional ownership and show you how it can make your dream of owning a second home in Menorca a reality. 
Click to see our co-ownership properties in Menorca here
Some of our fractional ownership properties in Menorca
246,850 €
Nestled in the coveted area of Coves Noves II, this contemporary villa showcases the epito
...
440,590 €
Welcome to this fantastic villa with six bedrooms and seven bathrooms near Ciutadella. Thi
...
268,700 €
Beautiful villa with 4 bedrooms and 5 bathrooms, located on the seafront with nearby beach
...
Menorca property market insights
Menorca is emerging as a sought-after destination for residential and investment purposes in the Mediterranean. Known for its breathtaking natural beauty, secluded beaches and picturesque bays, the Balearic island is attracting clients looking for an idyllic retreat in the Mediterranean. According to David Olsson, Managing Director at co-ownership-property.com, Menorca's residential properties offer promising potential for returns, as they are relatively moderate compared to other destinations. The number of online property inquiries rose by 30% in 2020 compared to the previous year, indicating the growing interest from international clients in buying and investing.
The pandemic has caused a significant increase in demand in the premium segment, and the average price for a residential property sale passed easily the €1 million mark in 2020, compared to €890,000 in 2019. French buyers dominate the market on the island, primarily interested in finding restoration projects, followed by buyers from Spain, Austria, and Italy. Villas and penthouses with sea views, large gardens and pools are particularly in demand.
The island is witnessing stable price developments in all regions, with Es Mercadal and Fornells ranking among the highest-priced locations. Historic estates designed in a typical Menorcan style with expansive grounds reached average prices of €2.5 million in 2020. Villas in excellent locations in Cala Galdana, Son Bou, Santo Tomás, Arenal d'en Castell and Addaia changed hands for €1 million on average, some much higher of course.
Menorca's capital, Mahón, makes up 27% of Menorca's total residential property market, rich in heritage and tradition. The largest natural harbor in the Mediterranean is located here, even the second largest harbor in the world after Sidney in British Columbia. Apartments directly on the coast sold here for an average of €400,000 in 2020, while townhouses commanded average prices of over €550,000.
In the east of the island, the picturesque port town of Es Castell, with prime locations in Sant Lluís and Alcaufar, ranks among the most desirable hotspots. The average price for beachfront villas in 2020 was €1.25 million. The Biniancolla region in the southeast saw the highest average prices for apartments on the entire island, at over €500,000.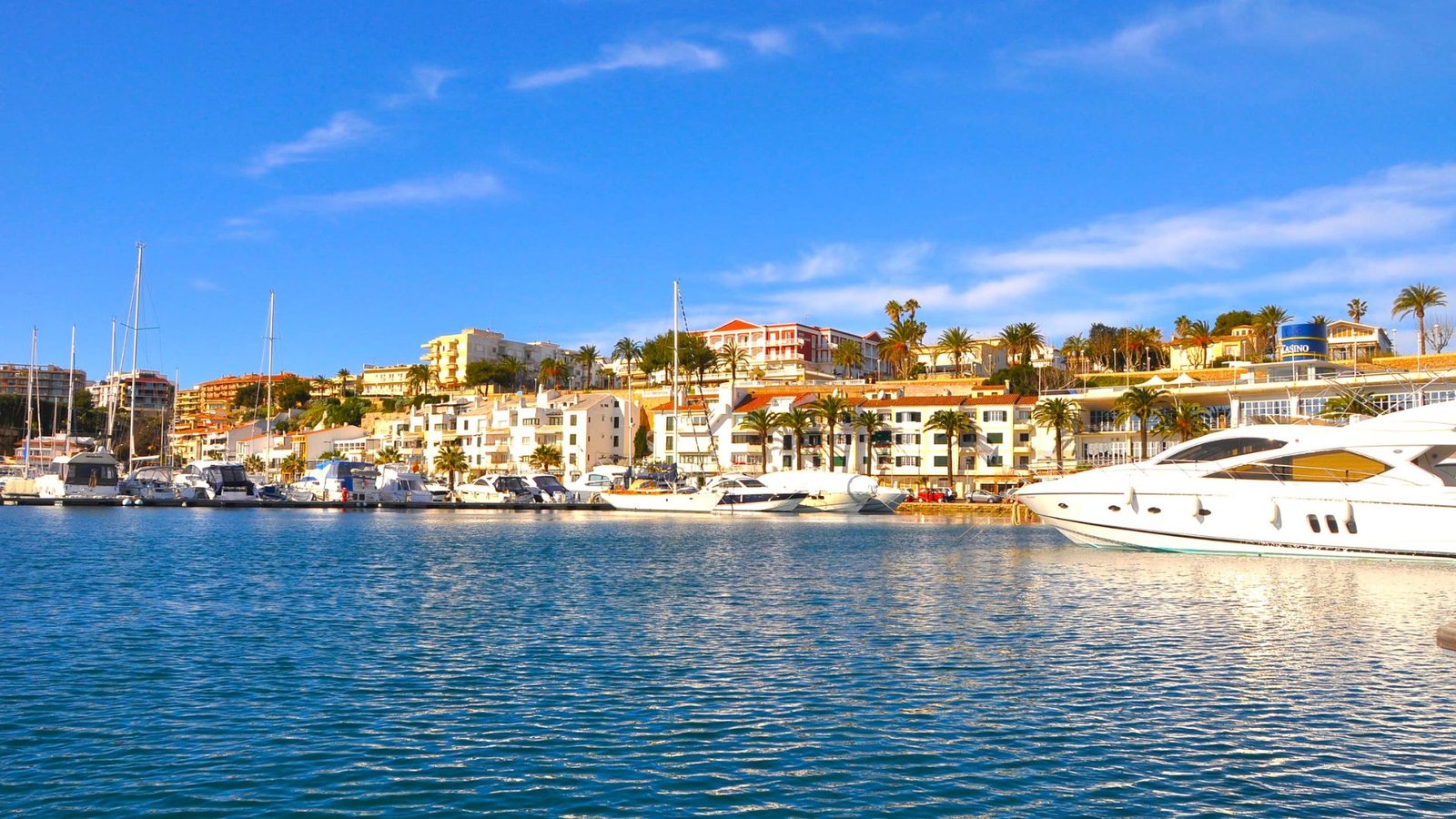 Ciutadella in the west of Menorca makes up 37% of the total residential property market. The average price for apartments in 2020 was €300,000. In the popular coastal locations around Son Xoriguer and Cala Morell, villas sold for over €1.35 million on average in 2020. Country houses here attained average prices of €1.65 million.
Menorca is set to retain its status as a Mediterranean insider tip, thanks to its convenient reach due to short flight times and the authentic island lifestyle it offers. The increasing shift towards luxury tourism is evident, reflected in the opening of the exquisite boutique hotel "Cristine Bedfor" and the Hauser & Wirth Menorca International Art Gallery opening on the iconic Isla del Rey in Mahón in summer 2021, attracting art connoisseurs from around the world in future.
The island has also been selected as the "European Region of Gastronomy 2022" thanks to its excellent culinary offerings and focus on regional produce. "Menorca offers all the advantages of the Mediterranean lifestyle, as well as an unusually wide variety of different properties. Clients still have the opportunity to take advantage of the comparatively low prices and profit from promising prospects for future appreciation in value. Now is a good time to invest."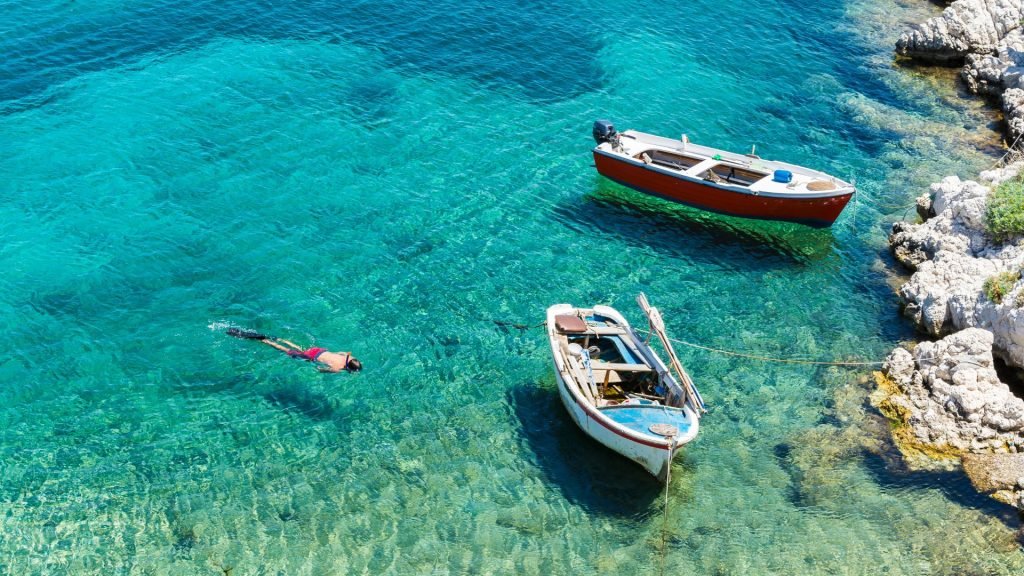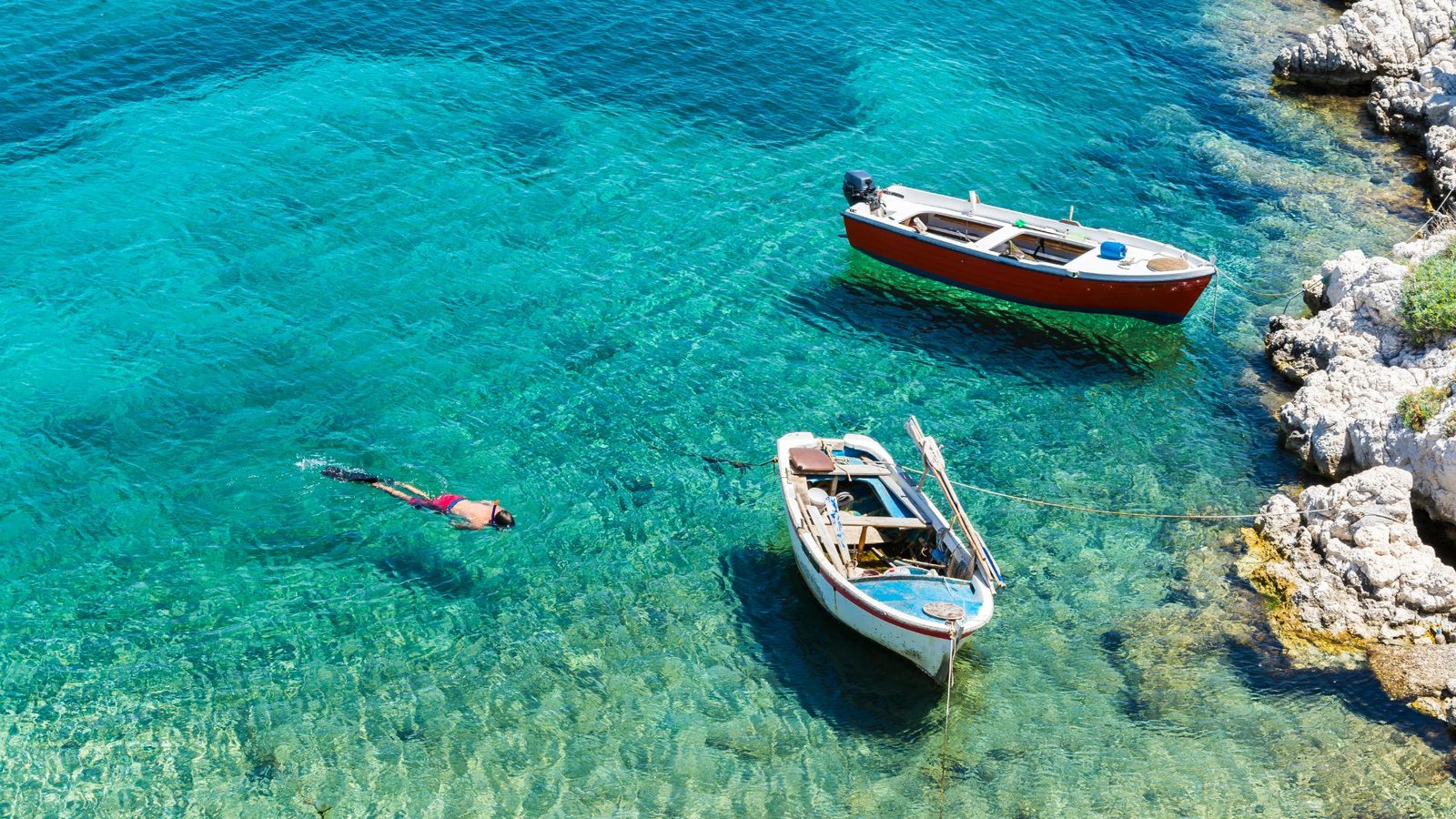 Snorkeling in Menorca at Ses Olles de Son Parc
If you are a snorkeling lover, you must visit Ses Olles, located on the north coast of Menorca, near the urbanization of Son Parc.
Ses Olles has two rugged pebble bays where you can escape from the crowds and disconnect from the world without moving too far away. A magical place to enjoy as a couple and discover Menorca's seabed. The first inlet, which is entirely of pebbles, is approximately 25 metres long, and the second, sandier inlet is about 10 metres longer. In both, it is easy to find a spot, as they are always practically unoccupied.
How to get there
Head towards Son Parc on the Me-7 road (Maó to Fornells) and when you are at the first crossroads take the 1st exit. At the roundabout take the 2nd exit, at the next two take the 1st exits. Continue a few metres and turn left onto this road, which is not very busy. Continue and take the 2nd exit to the right, where you will find the first bay. To go down, you must be very careful, as it is a cliff and landslides can occur.
Recommendation: If you want to go with your family, we recommend the beach of Arenal de Son Saura, the main beach in the urbanisation of Son Parc, with easy access and ideal to enjoy with younger children, because of the shallow water until well into the sea. In addition, Arenal de Son Saura has restaurant services, lifeguard, sun loungers, sunshades, kayaks and pedalos for hire.
Discover unique beaches in Menorca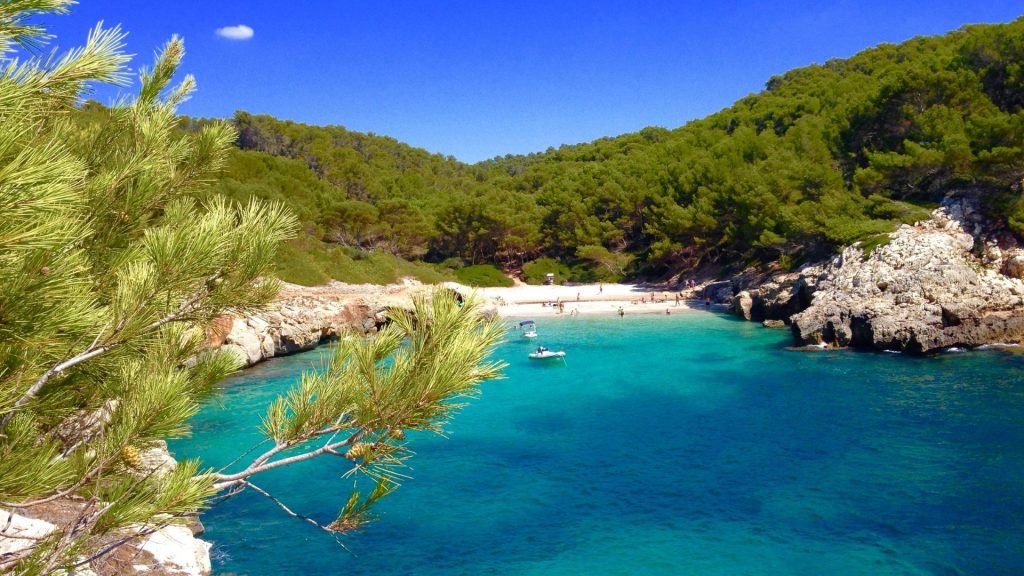 First on our list is the beach of Arenal de Son Saura, a white sandy beach located on the north coast of Menorca, next to the urbanisation of Son Parc. A safe turquoise seawater beach, perfect to enjoy with children due to the shallow seashore waters. If you also enjoy playing golf, you can visit Son Parc's golf course, the only golf course in Menorca.
Two other spectacular beaches are Cala Mitjana and Cala Mitjaneta, unspoilt, with crystal clear waters, surrounded by pine trees. Cala Mitjana is located at the end of the gorge, and to its right, looking at the horizon, is Cala Mitjaneta, a small bay that, depending on the winter storms, may or may not have sand.
Our fourth recommendation, and unlike the previous two locations, is not the customary white sandy beach, this beach is known as Cala Llucalari and can be considered a secret beach as it is rarely frequented, located a few hundred metres from Son Bou, surrounded by high cliffs. Although it is often full of seaweed, this does not tarnish its immense charm.
Our last mention is for Cala Algairens, also known as La Vall, located on the north of the island, near Ciutadella, within the area declared as Natural Area of Special Interest. It is an exquisite virgin cove with easy access, ideal for picnics with family and friends. The contrasts, generated by the surrounding bushes, white sand and the blue waters, join to create a picturesque landscape.