Discover the Charm of Mallorca: 7 Captivating Facts About Port d'Andratx and Cala Llamp
Embark on a journey to uncover the enchanting allure of two of Mallorca's hidden gems: Port d'Andratx and Cala Llamp. These coastal havens boast a rich tapestry of history, culture, and natural beauty. In this article, we will delve into seven captivating facts about Port d'Andratx and Cala Llamp in Mallorca that will leave you yearning to experience them firsthand.
A Picturesque Fishing Village:
Port d'Andratx, once a quaint fishing village, has gracefully evolved into an upscale harbour without losing its authentic charm. The natural harbour is dotted with traditional Llauts (Mallorcan fishing boats) as well as luxurious yachts, creating a delightful blend of old and new.
The Watchtowers of Port d'Andratx:
Steeped in history, Port d'Andratx is home to ancient watchtowers like Torre de Sant Carles, dating back to the 16th century. These towers were historically used to warn villagers of pirate attacks and offer a glimpse into the region's tumultuous past.
A Food Lover's Paradise:
Indulge in a gastronomic adventure in Port d'Andratx, where you can savour various Mediterranean cuisines. From fresh seafood to traditional Mallorcan dishes, the restaurants along the harbourfront are renowned for their culinary prowess. Notable establishments include Trespais, known for its fusion of German and Mediterranean cuisines, and Sumailla, which offers exquisite Japanese-Peruvian dishes with a sea-view dining experience.
Scenic Hiking Trails:
For nature enthusiasts, Port d'Andratx offers scenic hiking trails leading to the Serra de Tramuntana mountains. This UNESCO World Heritage Site is a treasure trove of biodiversity and offers spectacular views of the island.
The Secluded Cala Llamp:
Just a short drive from Port d'Andratx, you'll find Cala Llamp. This tranquil bay is enveloped by rugged cliffs and crystal-clear waters, making it an ideal spot for swimming and snorkeling away from the crowds.
Cala Llamp's Beach Club:
While Cala Llamp's beach is a rocky one, the Gran Folies Beach Club makes up for it. With a swimming pool, sunbeds, and direct sea access, it's the perfect place to relax and soak in the Mediterranean sun in style.
Inspiring Artistic Heritage:
Port d'Andratx has long been a source of inspiration for artists from around the globe. The town has a thriving art scene with several galleries and art studios showcasing the works of both local and international artists.
Nestled in the sublime vicinity of Port d'Andratx and the serene Cala Llamp in Mallorca, this impeccable 2-bedroom, 2-bathroom apartment spans a generous 104 sqm of elegant living space. Available through fractional ownership in Mallorca, this property is situated in a prestigious community that exudes an air of exclusivity with its splendid pool, jacuzzi, and sauna, coupled with an opulent Beach Club.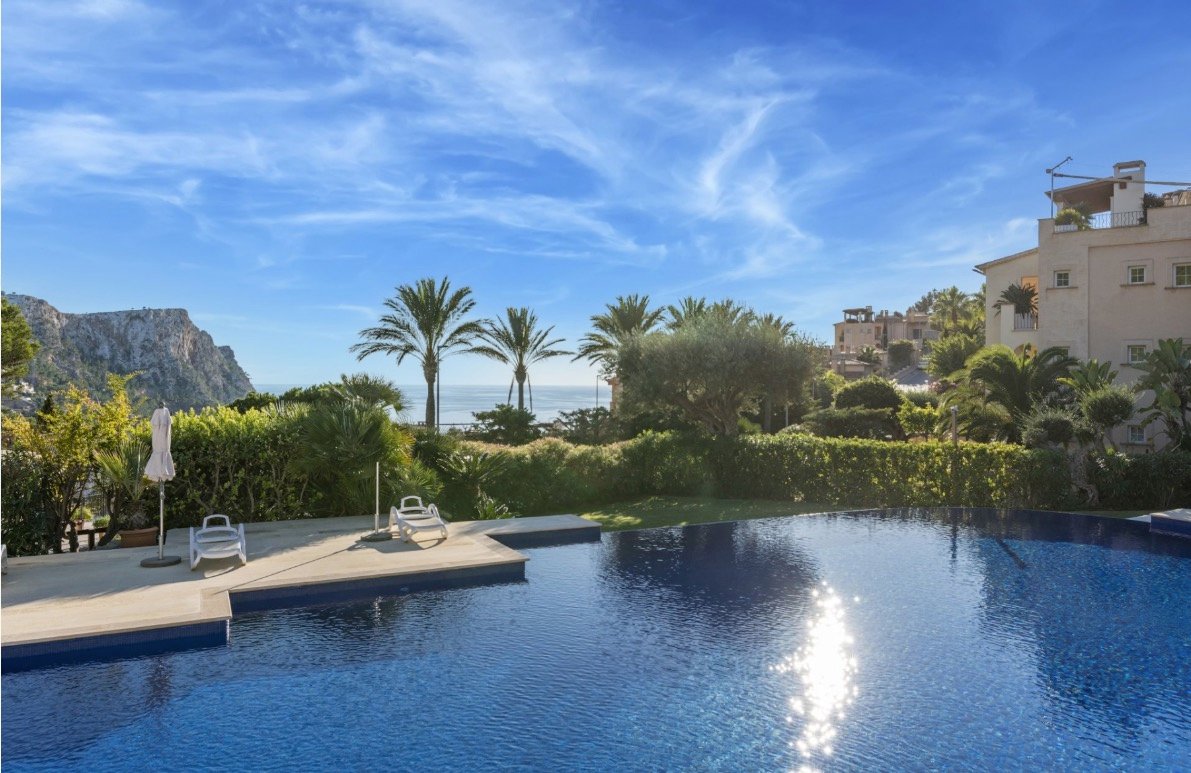 The apartment's interiors are marked by modern sophistication, featuring a capacious living area that flows onto a covered terrace with sweeping views of the mountains and the sea. The kitchen, appointed with contemporary amenities, seamlessly integrates with a utility room. The master suite is a luxurious retreat with an en-suite bathroom, dressing room, and a hydromassage shower.
The apartment also has underfloor heating, air conditioning, a fireplace, and an alarm system, ensuring utmost comfort and security. With the added convenience and flexibility of fractional ownership in Mallorca, this apartment represents an unparalleled opportunity for discerning individuals seeking a harmonious blend of luxury and functionality.