Discover Ibiza's Hidden Beaches and a new fractional ownership penthouse next to Cala Llenya
Sailing to Ibiza's Best Beaches: A Voyage to Remember
Visiting Ibiza is always a tempting plan, regardless of whether it's summer or not. Viewing the island from the sea is indeed a unique perspective. It allows for access to some of the most exquisite and inaccessible beaches from the land. Today, we'll delve into the best beaches to rent a catamaran in Ibiza and bask in the island's splendor.
Experiencing Ibiza from the vantage of the sea opens up a world of unique locations and stunning beaches. Catamarans are the ideal vessels for a family sailing adventure due to their stability. Yet, they also offer plenty of fun for a group of friends. The expansive open spaces on a catamaran can facilitate activities such as paddle surfing, moonlit dinners caressed by sea breezes, coastal spotting from the sea, and various water sports. What could be better for a group holiday?
Let's set sail and explore eight ideal beaches that are perfect for a boat visit:
Ses Balandres: Our journey begins off the shores of the Margarides Islands, at the foot of the cliffs of Es Munts. This location offers an incredible vista that will fill you with tranquility. Close to this location is Cala d'Albarca, which we'll talk about next.
Cala d'Albarca: Here you'll find dramatic cliffs, a haven of absolute tranquility, and a great place to unwind. However, there are only a few stretches of sand to anchor, so an early arrival is advised. Quick tip: avoid visiting this cove when the northerly wind is blowing.
Cala Rotja: Nestled between Cap Martinet and the cove of s'Estanyol, this is an ideal spot to drop anchor if you're heading towards the southern end of the island. An idyllic cove with nothing to disturb your peace surrounds you here.
Cala Jonc: Like many others, this cove can only be accessed from the sea, making your catamaran the perfect transport. Located in the northwest of Ibiza, close to Punta Grossa, you'll find transparent waters that will captivate you. Be wary of the wind, especially if it's blowing from the east.
Isla de Conillera: Across from the bay of Sant Antoni, you'll reach an island that offers a large open space perfect for anchoring from three meters. Here you can swim and snorkel over marine vegetation and sandy sea floors.
Cala Jondal: From unspoiled nature, we move to a location filled with glamour and style. Cala Jondal is ideal for those who want to blend into a more sophisticated crowd. Here, you can even order something to eat from the Tropicana Ibiza Beach Club, and they'll deliver it to your boat.
Cala Tarida: If you're picturing a white sandy beach with turquoise waters lapping against uniquely shaped rocks, then Cala Tarida is your destination. Located just 10 kilometers from Sant Antoni, and surrounded by many small coves, this place is ideal for families and adventurous friends.
Cala Olivera: We conclude with Cala Olivera, near Santa Eulalia. Pure nature with a spectacular beach where you can disconnect from everything. However, don't expect any beach bars nearby, so be sure to pack provisions to satisfy hunger and thirst.
Ibiza's beautiful coastline promises an unforgettable sailing adventure.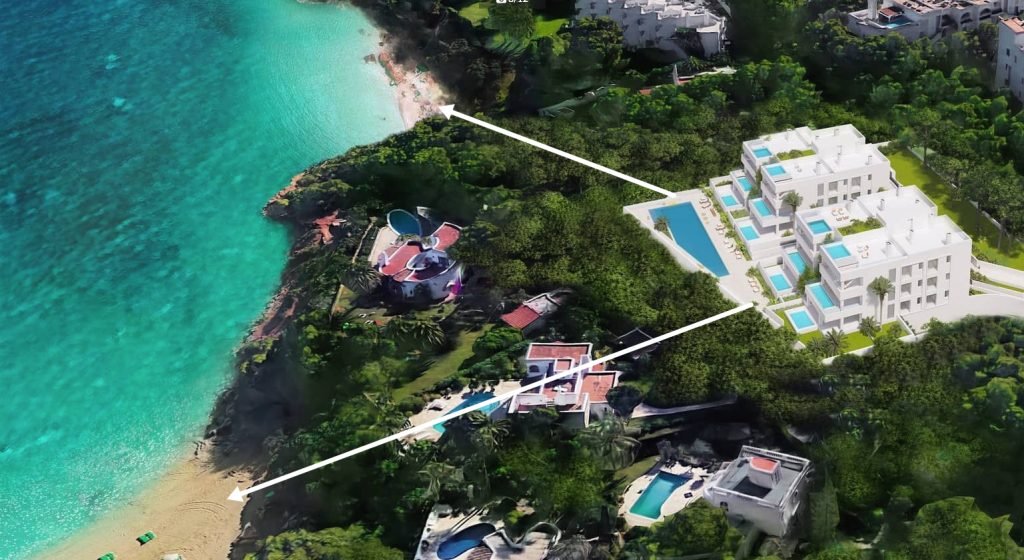 For sale is a 1/8th share in a luxurious 4-bed penthouse priced at €255,500, with a financing option that allows the share price to be spread over ten years.
Located near the serene Cala Llenya cove in Ibiza, this splendid development promises an unrivaled coastal living experience. This premium apartment complex, nestled close to the beautiful beaches of Cala Llenya and Cala Nova and the vibrant town of San Carlos, offers direct footpath access to these incredible beaches.
Each of the residences within this complex spans 200 square meters and features four bedrooms, each with its own en-suite bathroom, fully equipped kitchens, and radiant living areas. All of these spaces have been carefully designed to maximize the stunning sea views. The apartments are adorned with top-notch materials, manifesting luxury at every corner. Additional amenities include indoor parking and storage rooms.
The developer of this project is renowned for its high-end constructions in Ibiza, characterized by a unique island style and supreme quality. The construction quality, materials, and fittings are of the highest standard, blending elegance with sophistication. This property is an excellent choice for a second home or a main residence.
The apartment complex spreads over four floors. The ground floor features a private garden, while the first and second floors offer expansive terraces. The crowning glory of the development is the four penthouses on the roof, boasting spacious terraces with panoramic sea views. This is more than just a property; it's an opportunity to own a piece of Ibiza's paradise.
Co-Ownership
Making Luxury Homes Affordable
Discover Fractional ownership for a second home, embrace the dream! At Co-Ownership-Property, our passion for people and real estate knows no bounds. We've been sourcing incredible properties in the best destinations for our global clientele, guiding them to their perfect second home havens.